Year of Branches of KazAgroFinance JSC, Almaty region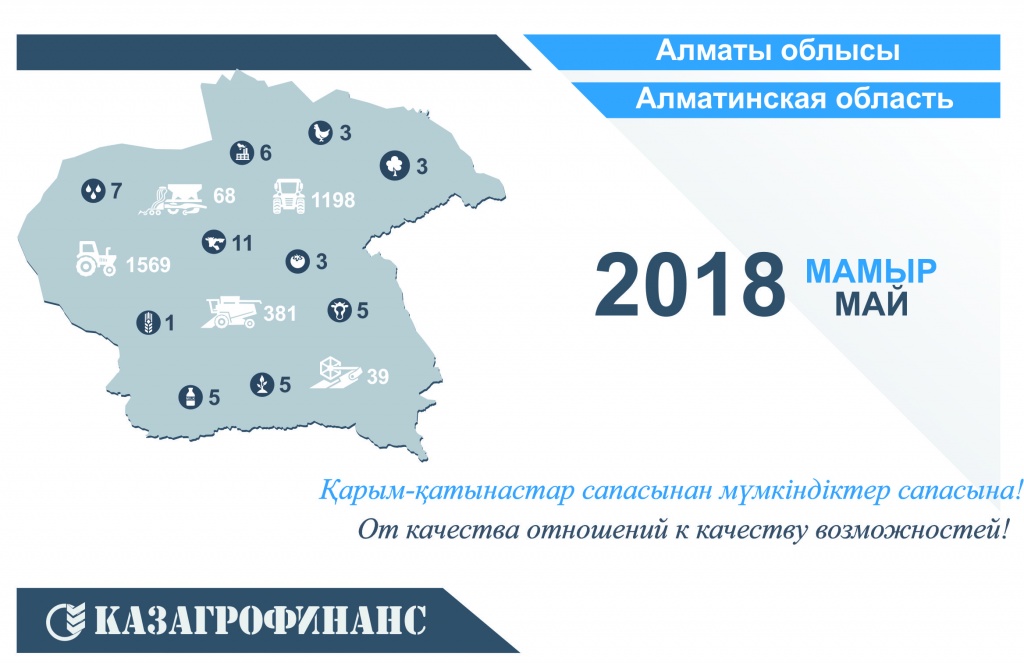 KZT21.4 mlrd. were invested in the development of the agricultural sector of Almaty region. Over 18 years of its activity, Branch of KazAgroFinance JSC leased 2518 units of agricultural machinery to the farmers and financed over 868 farms. It was reported by the Director of the Branch Yerzhan Ustayev. In his address, he also noticed that the region is actively working on improvement of the cattle quality.
'Our Branch fulfils the plans on placement of the agricultural machinery annually. For example, for the last three years the Branch achieved the ceiling in financing at KZT2 mlrd. annually. I also would like to notice that with the support from KazAgroFinance JSC there were created 6 pedigree reproducer farms with the total stock of meat cattle being 7 350 head. Such farms as 'Arkharly Maibuirek' LLP, Farm 'Nagashbek', Farm 'A.Y. Bimuratov', 'Alatau Dairy' LLP, Farm 'Altyn Arpa' and etc., which among the first in the region purchased the pedigree livestock of elite Angus cattle of 5 134 head and Hereford cattle of 2 214 head', the Director of the Branch stated.
According to Yerzhan Ustayev, for the last year the Branch of the Company financed over 116 farms, among which are both the reputable clients and recently established farms. According to him, in 2017 the Branch attracted 57 new clients.
'In 2017 the Branch attracted the new clients such as 'Kyzylshoky' LLP, 'Karashoky' PCC, 'Kyzylzhar' PC and other, as well as is actively cooperating with the current clients of the Company such as Farm 'Arna', Farm 'A.T. Kurshibayev', Farm 'Aksunkar'. Each farm has over 10 units of agricultural machinery purchased on leasing basis', Yerzhan Ustayev said.
In conclusion of his address, Yerzhan Ustayev stated about the tasks set towards the Branch in 2018. According to him, this year the Branch of the Company is intending to lease the agricultural machinery and special equipment for KZT2 mlrd. He also noticed that KazAgroFinance JSC, as a financial institution, which activity is aimed at renewal of the agricultural machinery and equipment fleet, annually extends the financing.
Ago