Year of branches of Kazagrofinance JSC, North-Kazakhstan region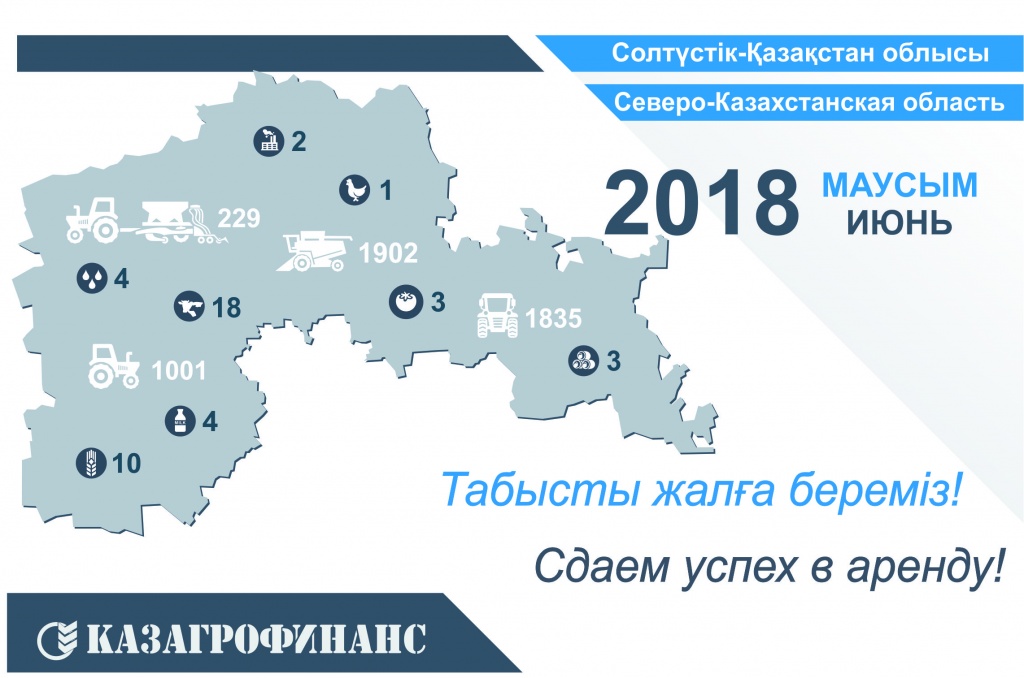 North-Kazakhstan region is one of the core granary of the country. The agrarians of the region renew the machine and tractor fleet by purchasing of the up-to-date agricultural machinery from the well-known brands and the domestic producers annually. Notwithstanding the recently enhanced competition at the leasing services market, the highest planned indicators are set towards the Branch, which are achieved annually. For instance, at year-end of 2017 we placed 254 units of agricultural and special machinery for over KZT5.4 mlrd. Since the beginning of this year the financing has amounted to over KZT4 mlrd., within which 139 units of machinery have been supplied', Dmitry Veremskiy stated.
In the course of his address, the Director of the Branch noticed the essential role of the Company in the implementation of the state programs. According to him, during the activity of the Branch in North-Kazakhstan region there were commissioned 45 Investment Projects for KZT16.4 mlrd.
'Within the implementation of the state programs with the support from our Branch the pedigree reproducer farms, granaries, dairy farms, vegetable storehouses and other were created in the region. Within the Beef Export Potential Development Program from 2011 through 2016 over 5 thous. head of high productive beef cattle, including both from the far and near aboard, were imported to the region', Dmitry Veremskiy noticed.
In 2018, the Company has extended its line of products and there are the new programs aimed at the maximum satisfaction of the farmer's needs in the agricultural machinery. Our borrowers are already participating in the new programs such as 'Reliable Farmer' and 'Own Feed', as well as utilizing the credit limit under the program 'Master Leasing'.
'The spring field campaign is in full swing in the region. All applications for purchase of the agricultural machinery have been reviewed by the Branch, and to date, 87 units of machinery for over KZT2.6 mlrd. have been leased to the farmers of the region. We are looking forward to the applications of our established and new customers for the harvesting machinery', Dmitry Veremskiy concluded.
According to the new Company's Development Strategy for 2017-2026, one of the priority objectives is to improve the loyalty to the existing customers and attract the new ones. To date, the Branch's portfolio exceeds KZT20 mlrd. covering over 500 lessees of the region. The Company's services becomes more attractive for the agricultural producers and we will proceed with this work.
Ago